Programs
Brochure
This page is the brochure for your selected program. You can view the provided information for this program on this page and click on the available buttons for additional options.
University of Georgia Studies Abroad Program in Cortona
Cortona, Italy;
Florence, Italy;
Naples, Italy;
Rome, Italy;
Venice, Italy
(Education Abroad Programs Program)
Program Terms:
Fall Semester,
Spring Semester

Homepage:
Click to visit
Program Sponsor:
University of Georgia
Term

Year

App Deadline

Decision Date

Start Date

End Date

Spring Semester

2019

01-NOV-2018 **

Rolling Admission

31-JAN-2019

26-APR-2019

Fall Semester

2019

01-APR-2019 **

Rolling Admission

TBA

TBA


** Indicates rolling admission application process. Applicants will be immediately notified of acceptance into this program and be able to complete post-decision materials prior to the term's application deadline.

Indicates that deadline has passed







UGA Cortona - Italy Studies Abroad Semester
The setting for the University of Georgia's Franklin College of Arts and Sciences Studies Abroad Program is the small, quiet, walled hilltown of Cortona, Italy. Centrally located within the Tuscany region on the crest of Mont S. Egidio overlooking the vast Val di Chiana, Cortona is surrounded by beautiful olive groves, vineyards, rich valley farmland and immense history.
The town of Cortona is a veritable museum that offers the student a rich artistic and historical environment that reveals itself through fine examples of Etruscan, Roman, Romanesque, and Renaissance art and architecture. Since 1970, the small community of Cortona and the University have shared a mutual tradition of goodwill and respect where the local government and citizens provide generous support and encouragement to the Studies Abroad Program and its students.
In this idyllic environment, the UGA Cortona - Italy Studies Abroad Program provides a challenging opportunity for the serious student who wishes to combine international travel with an intensive period of studio and classroom work while merging with the lifestyle and culture of a typical Italian community. Students live in a newly renovated 15th century monastery that provides premium studio spaces and living quarters with historic surroundings.
Although based in Cortona, students begin their experience in Rome or Naples. Throughout the program, field trips are made to many major cities and artistic centers in Italy such as Perugia, Assisi, Siena, Florence, and many other sites.
UGA Cortona Staff
Chris Robinson, Program Director
Kristine Schramer, Associate Director
Enza Valente, Office Manager in Cortona
Mary VanNus, Administrative Specialist
Sydney Nettles-Coates, Residential Center Advisor
Academic Program
UGA Cortona - Italy Studies Abroad Program

Course Offerings: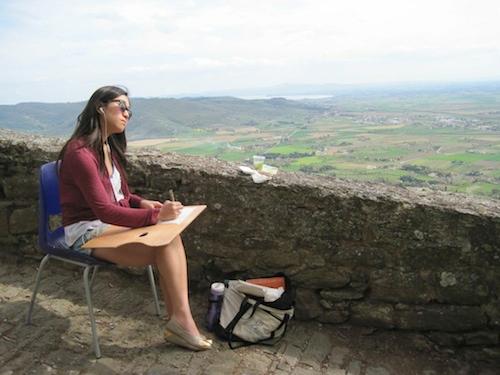 Art Education: (Spring semester only) Students have the unique opportunity to apply current art education theory and practice while they work with Italian children in the local elementary school. Students gain valuable experience in teaching and in working with children of another culture while interacting with the community in a substantive way.
Art Foundations: (Spring semester only) The very reference arts "Foundation" can be traced to the building blocks of the Italian Renaissance. Design, composition, spatial relationship and perspective played such an important role in European traditional art, as they will in these Art Foundation Courses. Art Foundation courses include: ARST 1050- Drawing I, ARST 1060- Color/Composition, ARST 1080- Three-Dimensional Design. Cortona Foundations Experience.
Art History: Students have an opportunity to visit and study some of the most influential works in western art. Each week the instrutor lectures/presents a specific work of Italian art. The lecture is followed by a prearranged visit to observe the work "in situ". Each student is responsible for the analysis (formal, art historical, visual) of a comparable work.
Art and Restoration Techniques:

(Spring semester only) Have you ever thought about what happens when you etch a metal plate in printmaking? Have you ever wondered how to make a fresco, or how the Sistine chapel was cleaned? Science in the Arts covers the basic science behind making, conserving and restoring works of art. Lecture content presents an introduction to materials, adhesives and coatings, and conservation. Laboratory exercises include the chemistry behind papermaking, preparing and analyzing pigments and paints, making frescoes, etching metals with acids, and developing the fixing photographic film.
Ceramics: Cortona has a rich ceramic tradition dating to the time of the Etruscans. Students work in a large studio where there is ample space for handbuilding, wheels for throwing with electric and gas kilns.
Classics: Students study the art, architecture, literature, history and/or culture of the Etruscans, Greeks and Romans in Classics courses, while living in the midst of ancient material remains in and around Cortona and throughout Italy. The ancient envrionment and remains can serve as sources of evidence and inspiration for their learning. *Please note that Classics will not be offered Fall 2016.
Contemporary Sculpture:

Expand one's sculptural thinking and practice into new territory by exploring contemporary international artists' installation artworks, use of time in performance art, and visit appropriate sites outside the museum/gallery context. Students will use studio projects, presentations, and critical discussions to investigate notions of sculputre beyond the art object. *Please note that Contemporary Sculpture will not be offered Fall 2016.
Creative Writing: (Spring semester only) These courses consist of the study of elements of writing poetry, fiction, and creative non-fiction through selected readings and discussions of student writings and naturally complement the papermaking and bookarts courses.
Drawing: In direct contact with monument of traditional European art, the drawing student has the opportunity to compare and assimilate ideas and techniques of the Italian tradition. The student is encouraged to actively compare historical traditions with contemporary European art. In all drawing classes, there is the opportunity to work from the fiure as well as the landscape.
English: (Spring semester only) These active, writing-intensive courses are designed to complement the arts elements of the Cortona Program. The program invites applications from juniors and seniors, as well as from sophomores with solid credentials.
Italian Language and Culture:

These courses are designed to offer students with little or no knowledge of the Italian language effective and expedient control over basic language patterns necessary for basic, direct communication. tThe culture course introduces students to the politics, religion, food and daily customs of Italy.
Jewelry and Metalwork: Beginning students work primarily in the lost-wax casting process and are introduced to soldering and hand finishing techniques. Advanced and graduate students are encouraged to work on individual interests. *Please note that Jewelry and Metalwork will not be offered Fall 2016.
Painting: Fundamentally, the ideas of Western painting are the outgrowth of ideas developed during the Italian Renaissance. Coursework offers students the opportunity of working in the environment where these ideas were born. All levels of students are encouraged to develop strong personal approaches to painting.
Papermaking and Bookarts: In the papermaking classes, the methods and materials for making paper by hand are studied and students are encouraged to investigate the potential for paper as a medium. The book arts classes include the study of various traditional and experimental binding techniques that explore the book as an art form and structure in relation to aesthetic content.
Photography:

Work in this course of study concentrates on black and white photography, but also utilizes color slides, a format that is practical and relatively permanent and being viewed by transmitted light, ideal for learning to judge qualities of light and color. Thus the student can concentrate on contemplating and making photographs in the distinctive light of Italy unencumbered by darkroom procedure and technique.
Printmaking:

Printmaking students work in a fully equipped intaglio and relief studio in Cortona. All basic equipment, accessories, and inks are provided. During the studio sessions intaglio and relief techniques such as etching, engraving, aquatint, mezzotint, dry point, collography, and woodcut are explored according to the interests of each individual.
Sculpture:

Carrara marble, alabaster, bronze, gold, wrought iron, mosaics and stone inlay have traditionally been the materials of Italian sculptors and craftsmen. Sculpture courses take advantage of the reservoirs of skill and materials available in Italy with visits to artist's studios, art foundries, and active marble carving and woodworking studios. Coursework is offered on the beginning, intermediate, advanced and graduate levels. *Please note that Sculpture will not be offered Fall 2016 or Spring 2017.
2016 Program Itinerary
Fall 2016
August 27 - November 20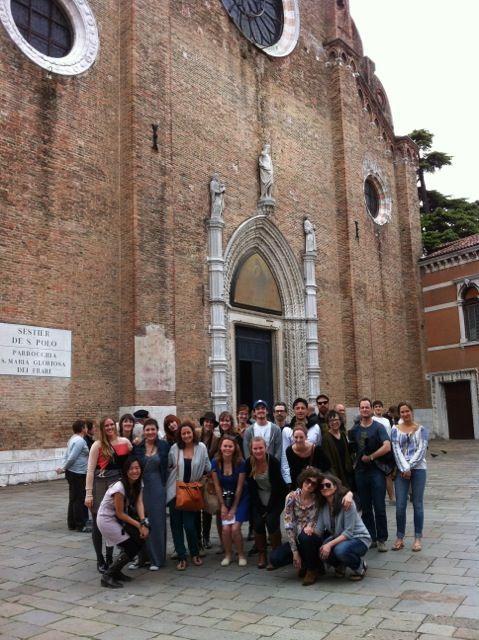 Aug 27 All participants are responsbile for making their own travel arrangements to and from Italy. In order to arrive in rome for the beginning of the program, this is the last possible day to depoart US for Rome, Italy.
Aug 28 Arrive in Rome - Torre Rossa Park Hotel from US. The program begins with an orientation session and roll call at 5:00 pm on the terrave of Torra Rossa in Rome.
Aug 28 - Sept 1 - Rome

Sept 1 Depart Rome for Cortona
Sept 3 Cortona Day
Sept 10 Field trip to Siena
Sept 17 Field trip to Assisi/Perugia
Sept 24 Cortona Day

Oct 1 Field trip to Arezzo
Oct 7 Overnight field trip to Florence (Oct 7-10)
Oct 10 Return to Cortona
Oct 15 Cortona Day
Oct 22 Field trip to Urbino/Gubbio
Oct 29 Field trip to Orvieto

Nov 5 Studio Day in Cortona, preparation for La Mostra
Nov 11 Tentative - Exhibition Set Up
Nov 12 Tentative - Exhibition Opening - La Mostra
Nov 13 Exhibition take down/crate packing
Nov 17 Depart Cortona for Naples
17 - 20 Naples area
Nov 20 Official end of the program after hotel check-out
Housing and Meals
Housing:
Living conditions for UGA students are similar to those experienced by European students in pensiones or one-star hotels. The John D. Kehoe building is the permanent residential facility of the UGA Cortona - Italy Studies Abroad Program, and has been recently renovated with modern conveniences. The Kehoe building has multiple-bed dormitory rooms and shared bathrooms. A large courtyard provides students an opportunity to gather outdoors to study, draw or tend to personal chores such as laundry. Downstairs is a large kitchen. In an adjoining room, a continental breakfast is served between the hours of 7:00am to 9:00am. There are several coin operated washers for use, but many students choose to wash their clothes by hand in available sinks or tubs. The terrace has several clothes lines to dry your clothes on, which is the only means to do so. There are several common rooms available for studying or reading. The Kehoe building doors remain locked but each student is provided with a personal key. Linens are provided and are changed by the staff.



Breakfast:
A continental breakfast is served every morning at the Kehoe Building. Continental breakfast consists of bread, jam, fruit juice and coffee or tea. Students who want or need additional food for breakfast may buy groceries and keep them in the student refrigerator.

Lunches:
Lunch while in Cortona and on field trips will be on your own. In Cortona, there are many options for an inexpensive quick lunch at local grocery stores and bars, as well as numerous full-service restaurants.
For lunch, sandwiches are available at most bars and grocery stores in town. A "toast" in Italy is a grilled ham and cheese sandwich, and most bars will offer other choices as well. Any of the grocery stores in town will prepare a sandwich made to your specifications or you can buy your own fruit, cheese and bread. The range of restaurants in Cortona varies from first-class full menu restaurants to more inexpensive places where you can order a pizza or a plate of pasta.
If you would like to go to a full-service restaurant for lunch, the prices will generally be higher and you will pay for service. A cover charge is automatically added to your bill and you are also expected to tip your waiter. Sitting down in a restaurant means possible waiting times, as food in Italy is cooked only after you order it. In Cortona, smaller family-run restaurants are usually fairly inexpensive and provide an opportunity to make friends with the Cortonese.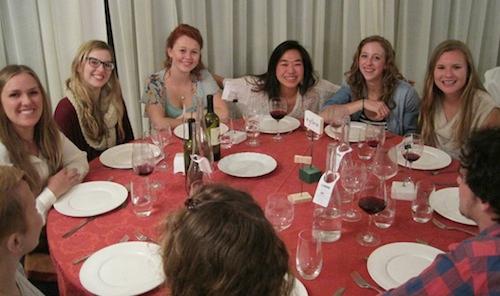 Dinners:
Evening meals are shared as a group 3 nights a week during the Spring and Fall semesters and 5 nights a week (Monday-Friday) during Maymester and Summer semesters. Spring and Fall students will also receive a voucher 1 night a week, redeemable from one of many restaurant options in Cortona (conditions/terms apply). When taken with the group, meals are typical Tuscan fare prepared and served at Tonino's Ristorante, one of the most well-known and respected restaurants in the region. The University of Georgia group gathers for dinner at 7:30 pm. The dining room seats approximately 100 people and is serviced by the professional staff of Tonino's. The restaurant has a balcony with a bar on the upper level providing a spectacular view of the Val di Chiana and is a relaxing place for a before or after dinner coffee or aperitif. Students are responsible for their weekend dinners and can choose to prepare their meals or eat at one of the many restaurants in Cortona.
Dinner at Tonino's consists of three courses: the first course (primo piatto) is usually pasta or rice, the second course (secondo piatto) is usually meat or fish and a selection of salad or vegetables, and dessert (dolce) is usually fruit or cake or pastry. A different second course is served to those who are vegetarians.

Meals While Traveling:
Breakfasts and dinners while in Naples and Rome; Breakfasts and some dinners while in Florence; only breakfast is serviced while in Venice. Please refer to specific itineraries for program travel.
Program Costs
The basic cost of the program is estimated at $10,600 for Spring or Fall 2015 semesters. Tuition is not included in this cost. See bursar.uga.edu for tuition rates. Students generally take 12-13 hours in Fall or Spring. The cost of the program includes:
Deposit due after acceptance to program
International Health Insurance (UGA requirement)
Charter bus transportation on all planned field trips
Charter bus transportation from beginning cities to Cortona, and from Cortona to program ending city.
Shared hotel accommodations when traveling and dorm in Cortona
Breakfast and dinner while traveling with the program group (Breakfast only while in Venice)
Dinner 4 days a week while in Cortona
Breakfast 7 days a week while in Cortona
Program t-shirt
Students who are not residents of Georgia or do not attend a University System of Georgia University or College pay an additional $250.00. Should you require additional information, please contact us by e-mail at cortona@uga.edu or by phone at 706-542-7120.
Accommodation Statement
UGA education abroad programs strive to provide reasonable accommodations for students with documented disabilities.  Areas of disability include, but are not limited to visual, hearing, learning, psychological, medical, and mobility impairments. If you receive disability-related accommodations at UGA or at your home university, or if you anticipate needing accommodations at your overseas site, you will arrange for them with your study abroad program director and the staff in the Disability Resource Center. Examples of accommodations include note taking assistance, extended test time, a quiet testing location, alternative text/media, and accessible housing. Please provide information about your accommodation needs at least 4 weeks prior to departure in order to allow time to arrange for accommodations. Students are asked to disclose disability-related needs prior to the start of the program to help ensure that there are no delays in accommodations and that the student can enjoy the full study abroad experience.
Please visit the University of Georgia Studies Abroad Program webpage for program details.